Inde : l'avènement politique de la caste
[The political coming-of-age of India's caste system] Reverse discrimination measures in favor of the untouchable caste were taken in India as far back as the colonial period, especially in the form of hiring quotas in the public service. They were taken up virtually intact by the leaders of newly independent India without provoking any debate, since the untouchables are situated so low on the social ladder that they do not threaten the elite's privileges. The problem begins with the castes just above: difficulties of definition in a young nation preoccupied by unity and hoping to surpass caste divisions; difficulties of implementation when the castes between the untouchables and the "twice born" make up the majority of the population, and the upper castes, feeling threatened by any measure in favor of these lower castes, put up resistance. After a long standstill, these lower castes mobilized in the 19080s and have formed political parties to defend themselves. Consequently, the law of numbers works in their favor.
Des mesures de discrimination positive en faveur des intouchables ont été prises en Inde dès l'époque coloniale, notamment sous la forme de quotas dans la fonction publique. Elles ont été reprises presque telles quelles par les dirigeants de l'Inde indépendante sans susciter de débat, les intouchables étant situés si bas dans la société qu'ils ne menacent pas les privilèges de l'élite. Les difficultés commencent avec les castes situées juste au-dessus. Difficultés de définition, dans une jeune nation soucieuse d'unité et désireuse de dépasser la division en castes ; difficultés de mise en œuvre, dès lors que les castes situées entre les intouchables et les "deux fois nés" constituent la majorité de la population, et que les castes supérieures, se sentant menacées par toute mesure en faveur de ces castes intermédiaires, résistent. Après une longue période de blocage, ces basses castes se sont mobilisées à partir des années 1980. Elles ont aussi formé des partis politiques pour les défendre. Dès lors, la loi du nombre joue pour elles.
Fichier principal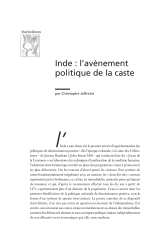 ci17p131-144.pdf (94.27 Ko)
Télécharger le fichier
Origin : Explicit agreement for this submission