Universités américaines : la fin des préférences raciales ?
[The end of racial preference in American universities?] In the 1990s, affirmative action policies in hiring, university admissions and public works contracts were the targets of repeated attacks and were gradually dismantled, at least in part. Using meritocratic arguments and the principle of color-blindness, enemies of these policies turned to the courts or, in certain states, to referenda on popular initiative to do away with these measures. But although court decisions and referendum outcomes usually decided in favor of affirmative action opponents, the Supreme Court has so far carefully avoided having to take a definite stand. Moreover, the major universities have not necessarily discontinued the practice, albeit in concealed forms, of applying a certain degree of racial preference they still believe indispensable.
Dans les années quatre-vingt-dix, les politiques de discrimination positive (dans l'embauche, l'université et les marchés publics) ont fait l'objet d'attaques répétées et ont été peu à peu partiellement démantelées. S'appuyant notamment sur des arguments méritocratiques et sur le principe de color-blindness, les ennemis de ces politiques ont eu recours à la voie judiciaire ou à celle des référendums d'initiative populaire dans certains Etats, pour en venir à bout. Mais, si les arrêts des tribunaux et les résultats des scrutins leur ont le plus souvent été favorables, la Cour suprême a évité soigneusement jusqu'ici de devoir prendre une position tranchée ; et par ailleurs il n'est pas sûr que les grandes universités concernées aient renoncé à pratiquer, sous une forme éventuellement masquée, un certain niveau de préférence raciale qu'elles jugent toujours indispensable.
Fichier principal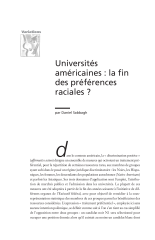 ci17p159-171.pdf (94.41 Ko)
Télécharger le fichier
Origin : Explicit agreement for this submission