Priorités et limites de la politique pénitentiaire en Russie
[Priorities and limits to penitentiary policy in Russia] - In the Russian context where political leaders base their legitimacy at least partially on their determination to combat crime, penitentiary policies and criminal law change slowly and are far indeed from meeting the criteria of a democratized political regime. The selection and ranking of objectives and priority values of public action meet diplomatic criteria (present a democratic image of Russia abroad), as well as budgetary and practical considerations more so than those of a general reform project. Thus the goal of reducing the prison population has led to granting many amnesties with virtually no thought to how imprisonment fits within judicial practices. However, prison directors and regional directors of the penitentiary administration enjoy considerable leeway, which in some cases allows them to conduct their own penitentiary policy. But they should not expect to see their careers benefit from their innovative initiatives.
Dans le contexte russe, où les dirigeants politiques construisent au moins partiellement leur légitimité sur leur détermination à lutter contre la criminalité, les politiques pénitentiaires et pénales évoluent lentement et sont bien loin de remplir les critères d'une démocratisation du régime politique. La sélection et la hiérarchisation des objectifs et des valeurs prioritaires de l'action publique répondent plus à des considérations diplomatiques (donner une image démocratique de la Russie à l'étranger), budgétaires et pratiques qu'à un projet général de réforme : ainsi, l'objectif de réduction de la population carcérale a suscité de nombreuses amnisties, sans guère de réflexion sur le recours à l'emprisonnement dans les pratiques judiciaires. Toutefois, les directeurs de prison et les directeurs régionaux de l'administration pénitentiaire disposent d'une large autonomie qui leur permet éventuellement, dans certaines limites, de mener leur propre politique pénitentiaire. Mais ils ne doivent pas s'attendre à tirer des bénéfices de carrière de leurs initiatives novatrices.
Fichier principal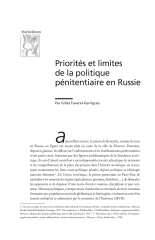 ci16p121-135.pdf (98.71 Ko)
Télécharger le fichier
Origin : Explicit agreement for this submission