Comparer deux " démocraties hors normes "
Comparing two " special democracies " This tematic issue is the outcome of a conference attended by Italian, Japanese and French researchers interested in comparing Italy and Japan. Political scientists have already used that approach, but always focusing on the specificities of the two countries and the features of their political systems which are considered illustrative of their deep abnormalities. As against this process which they deem unsatisfactory, the authors set themselves three objectives : to outline a parallel history of the two countries, to highlight certain aspects of their political systems, to analyze the latest developments. This leads them to a different approach to the fundamental political realities - corruption, clientelism, and party government --, and to challenge the rele­vance of a new concept, that of " regulated redistributive partitocracy ".
Les auteurs retracent l'origine de ce numéro issu de journées d'études réunissant des cher­cheurs italiens, japonais et français désireux de procéder à une comparaison entre l'Italie et le Japon. La science politique s'est déjà intéressée à ce type d'approche mais en insistant toujours sur les spécificités de ces deux pay s et les particularités de leurs systèmes politiques qui démon­treraient leur profonde anormalité. A rencontre de cette démarche qui leur semble insatisfai­sante, les auteurs se sont fixé trois objectifs : tenter une histoire parallèle des deux pays, mettre en lumière certains aspects de leurs systèmes politiques, analyser leurs évolutions les plus récentes. Les auteurs en viennent ainsi à porter un autre regard sur des réalités politiques fon­damentales, la corruption, le clientélisme, la partitocratie, et questionnent la pertinence d'un concept qu'ils ont forgé, celui de " partitocratie redistributive régulée ".
Fichier principal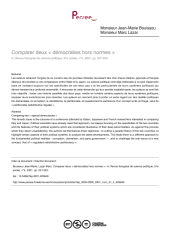 article-rfsp-0035-2950-2001-num-51-4-403649.pdf (1.55 Mo)
Télécharger le fichier
Origin : Explicit agreement for this submission