Où est l'intérêt national des États-Unis ? : Approche réaliste et conflits périphériques
[Where does U.S. national interest lie? Realist approaches and peripheral conflicts] As the American presidential elections draw near, the candidates are developing their foreign policy programs, which also entails analysis of the departing President's record. Since the end of the Cold War, it has become more difficult to define U.S. national interests, as demonstrated by Bush Senior's hesitations, the evolution of Clinton's foreign policy, and debates in Congress and among foreign policy experts. If Bush Junior's program reflects a fairly classical realism (in particular, ranking problems on a scale in which human rights occupy a relatively modest place), one may ask whether giving priority to the risks of major confrontation is truly more realist in the post Cold War era than a more subtle approach which would reflect that the greatest dangers lie perhaps in what appear to be " peripheral " crises..
A l'approche des élections présidentielles américaines, les candidats élaborent leur programme de politique étrangère, qui implique aussi une analyse du bilan du Président sortant. Après la guerre froide, il n'est plus si aisé de définir l'intérêt national, comme l'ont montré les hésitations de Bush-père ainsi que l'évolution de la politique clintonienne, les débats au Congrès et les débats d'experts qu'elle a occasionnés. Si le programme du candidat Bush est d'un réalisme assez classique (hiérarchisant notamment les problèmes selon une échelle où les droits de l'homme occupent une place relativement modeste), on peut se demander si, après la guerre froide, accorder, comme jadis, la priorité aux risques de grands affrontements est vraiment plus réaliste qu'une approche plus fine, qui reconnaîtrait que les plus grands dangers gisent peut-être dans des foyers de crises apparemment "périphériques".
Fichier principal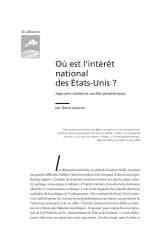 ci08p97-116.pdf (110.59 Ko)
Télécharger le fichier
Origin : Explicit agreement for this submission