La question féminine, angle mort de la démocratie islamique en Iran
The Women's Cause. An Irrelevant Issue in the Islamic Democracy of Iran - Since the end of the 80's, the condition of Iranian women became significantly better. Many of them participate in the public sphere and got an economical or social activity. Rafsandjani's politicy of liberalization furthered this womens's investment, which became more explicitly political. However, women remain out of a number of social areas and are still victims of social and legal discriminations. Indeed, only seem possible the progress respecting the traditionnal Islamic think about women's condition in life, and serving the "honour of the system", rather than attacking it. In this context, the veil paradoxically makes easier the investment of women in the public sphere.
Dès la fin des années 1980, la situation des femmes iraniennes s'est améliorée. Nombre d'entre elles ont investi l'espace public et ont pu exercer une activité économique ou sociale. La politique de libéralisation menée par Rafsandjani a permis à cet investissement féminin de s'accroître et de prendre une tournure plus explicitement politique. Mais les femmes demeurent exclues de vastes secteurs de la société et continuent à être l'objet de discriminations juridiques et sociales. Les seules avancées possibles ont en effet été celles qui respectaient la pensée islamique traditionnelle de la question féminine, qui servaient l'" honneur du système " plutôt que de le subvertir. C'est ainsi paradoxalement le port du voile qui a favorisé l'inscription des femmes dans la sphère publique.
Fichier principal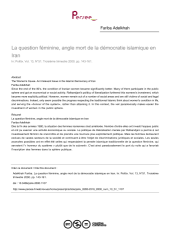 article-polix-0295-2319-2000-num-13-51-1107.pdf (1.56 Mo)
Télécharger le fichier
Origin : Explicit agreement for this submission