La classe ouvrière post-communiste. Des " héros au pouvoir " à l'exclusion des " petites gens "
The Post-Communist Working Class. From "Heroes in Power" to the Exclusion of "Common People" - The transformations of the working class , in the post-Communist period raise the question of the differentiating processes : which have affected status, opportunities and representation. With the changes affecting property rights, several types of firms appeared, including manufacturing units taken over by foreign investors. There was a significant amount of job reduction in these units, affecting wages eaners in particular. The Soviet-style working class was thus the primary loser in the transformations begun in 1990. This article seeks first of all to underscore the : degree of autonomy the working class enjoyed under the former regime in order to understand more fully that, with the change of ownership, both representation and social status underwent profound revamping. The author has based his work on surveys conducted in Polish cement factories in 1997 and 1998.
Les transformations de la classe ouvrière dans la période post-communiste, soulèvent la question des processus de différenciation qui ont affecté les statuts, les chances de jeu, les représentations des acteurs. Avec les changements qui ont touché les droits de propriété, plusieurs types d'entreprises sont apparus, parmi lesquels les unités reprises par les investisseurs , étrangers. Les réductions d'emploi y ont : été très importantes, affectant notamment les postes ouvriers. La classe ouvrière de type soviétique a ainsi été la "grande perdante" des transformations initiées en 1990. Cet article s'attache d'abord à souligner le degré d'autonomie dont elle disposait sous l'ancien régime pour mieux comprendre qu'avec le changement des droits ? de propriété, les représentations comme . les statuts sociaux ont été profondément remodelés. L'auteur s'appuie sur des enquêtes conduites dans des cimenteries en Pologne en 1997 et 1998.
Fichier principal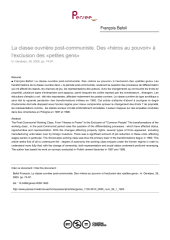 article-genes-1155-3219-2000-num-39-1-1623.pdf (2.1 Mo)
Télécharger le fichier
Origin : Explicit agreement for this submission