Guerre civile et œuvres pies en Algérie
[Civil war and charity works in Algeria] After many years of clientelist practice amongst the FLN elite, the charisma of those who fought for independence has expired. A new force - the FIS - has taken over : through a strategy of charity works conducted in the name of Islam, those who were elected to municipal power in 1990 aroused the enthusiasm which led to the Islamist victory in the 1991 legislative elections. The interruption of the electoral process and the civil war gave rise to other figures of the "benefactor": the emir of the guerilla, and new elites such as the militiaman or the RND elected official. The war, racketeering, the liberalisation of the economy, and international aid lavished on the regime have established opportunities for enrichment, which expanded the possibilities for "charity". However, this has not led to the exceptional combination of charity works and a politico-moral ideal, which was central to the success of the FIS.
Après de longues années de pratique clientéliste des notables FLN, le charisme des combattants de l'indépendance s'est épuisé. Une force nouvelle, le FIS, a pris le relais : par une stratégie de la bienfaisance hardiment conduite au nom de l'islam, ses élus municipaux de 1990 soulèvent l'enthousiasme qui conduit à la victoire islamiste aux législatives de 1991. L'interruption du processus électoral et la guerre civile font alors surgir une autre figure du "bienfaiteur", l'émir de la guérilla, suivi à son tour par de nouveaux notables sous les espèces du milicien ou de l'élu RND. La guerre, le racket, la libéralisation de l'économie et l'aide internationale prodiguée au régime ont fourni des opportunités d'enrichissement (donc de largesse) qui font exploser l'offre de "bienfaits" - sans que se retrouve cette combinaison exceptionnelle de bienfaisance et d'idéal politico-moral qui avait fait le succès du FIS.
Fichier principal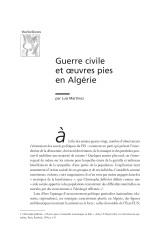 ci04p127-137.pdf (72.34 Ko)
Télécharger le fichier
Origin : Explicit agreement for this submission