La démocratie japonaise entre crise et réinvention
Japanese democracy between crisis and reinvention. Japanese democracy is in the throes of a crisis of legitimacy that has shaken up the whole political system. At the local level however, a growing number of associations centered around self-managed consumer cooperatives are reviving the idea of citizenship. Though still frail, given the lack of coordination at the national level, their narrow social bases and their ambiguous relations with public authorities, these alternative forms of participation in public life are gradually permeating political practices and discourses, which revolve around the ideas of decentralization and proximity. This movement might serve as a counterweight to the ambient far-liberalism. Japan might thus be making an original experiment that, for the first time in its history, would give it a part in changing ideologies at the world-level.
La démocratie japonaise traverse une profonde crise de légitimité, qui affecte l'ensemble du système politique. Pourtant s'affirme, à partir du local, un renouveau citoyen à travers la multiplication des réseaux associatifs, centrés autour des coopératives autogestionnaires de consommation. Bien que cette évolution soit fragile du fait de leur manque de coordination au niveau national, de l'étroitesse de leur base sociologique et de l'ambiguïté de leurs relations avec les différents pouvoirs, ces formes alternatives de participation imprègnent peu à peu le discours et les pratiques politiques actuelles, qui s'articulent autour des idées de décentralisation et de proximité. Ce mouvement pourrait constituer un contrepoint à l'ultra- libéralisme ambiant et permettrait au Japon de développer une expérience originale à travers laquelle, pour la première fois de son histoire, il participerait à la recomposition de la scène idéologique mondiale.
Fichier principal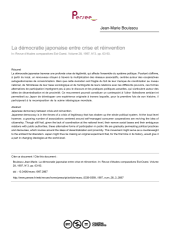 article-receo-0338-0599-1997-num-28-3-2867-1.pdf (2.36 Mo)
Télécharger le fichier
Origin : Explicit agreement for this submission