Vers une Inde post-congressiste ?
Towards Post-Congress India ? - The Indian élections of April-May have resulted in an historie defeat for the Congress party : it will probably not be in a position to govern alone before long. Yet, the voters have not designated a genuine successor. To be sure, the BJP, known for its Hindu nationalist ideology, has become the major force in Parliament, but it stalls in terms of votes cast and seems unable to win a clear majority of seats due to the growing split in the electorate aptly illustrated by the emergence of regional parties. The post-Congress era now opening-up before India will most probably bear the hallmark of coalition-rule.
Les élections indiennes d'avril-mai ont vu le Congrès subir une défaite historique : l'ancien parti dominant ne sera sans doute pas en mesure de gouverner seul avant longtemps ; or les électeurs ne lui ont pas désigné de successeur véritable. Certes, le BJP, réputé pour son nationalisme hindou, est devenu la première force au parlement mais il stagne en termes de suffrages exprimés et ne paraît pas à même de remporter une majorité des sièges en raison de la fragmentation croissante de Pélectorat qu'illustre bien l'essor des partis régionaux. L'ère post-congressiste dans laquelle entre l'Inde sera sans doute marquée par le règne des coalitions.
Fichier principal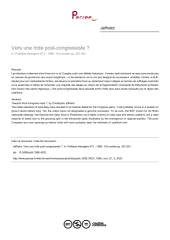 article-polit-0032-342x-1996-num-61-2-4533.pdf (1.13 Mo)
Télécharger le fichier
Origin : Explicit agreement for this submission