Le Japon et la Chine : amour, haine et géostratégie
Japan and China : Love, Hatred, and Geo-Strategy - Sino-Japanese relations bear the imprint of eighteen centuries of ambiguity, and the trauma of a devastating war. This impassioned context puis Tokyo on the defensive. In any hypothesis, China's development constitutes a threat to Japan, which stands by helpless. Likewise, Japan's options are few compared with China's military might. A patient three-pronged strategy (some form of contain-ment, tying China into multilateral networks, and confidence-building) seems the most appropriate over time. But the time factor may turn out to be crucial, given the volatility of the situation in China.
Dix-huit siècles de rapports ambigus et le traumatisme d'une guerre dévastatrice ont marqué les relations sino-japonaises, dont le contexte passionnel place Tokyo sur la défensive. Le développement de la Chine, dans toutes les hypothèses, constitue une menace pour le Japon, qui n'a guère de prise sur cette évolution. De même, il est assez désarmé face aux diverses options militaires dont la Chine dispose. Une stratégie patiente à trois axes -- esquisser un containment, prendre Pékin dans le filet des organisations internationales et bâtir la confiance -- semble la plus appropriée à terme. Mais le facteur temps peut s'avérer crucial, compte tenu de la volatilité de la situation en Chine.
Fichier principal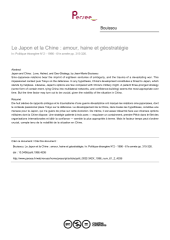 article-polit-0032-342x-1996-num-61-2-4536.pdf (1.13 Mo)
Télécharger le fichier
Origin : Explicit agreement for this submission