Les conflits post bipolaires : dynamiques et caractéristiques
This issue continues the discussion begun by the first issue, concerning "the prolongation of conflicts", at a more structural level. How will armed conflicts develop in the future ? What is happening now that the East-West confrontation and bipolarity have disappeared ? The logic of the actors, the reasons for prolongation induced by the socialisation of war and the difficulties for armed people to accept returning to a civilian way of life are anlaysed, as well as the new context after bipolarity. The development of recent conflicts can be analysed via three dynamic movements : globalisation, fragmentation, transnationalisation. Globalisation and fragmentation are analysed as two opposite dynamics. Some analysts only see globalisation and speak of unipolarity, others only see fragmentation and speak of " chaos ", " southern threat ", or " clash of civilisations ". New theories propose combining globalisation and fragmentation in order to understand the " turbulences " of the present World, but they lack a clear distinction between globalisation, fragmentation and transnationalisation. This last dynamic, is however, not the result of the first two but follows its own logic.
Quelles sont les conditions dans lesquelles dorénavant ces conflits se développent ? Que se passe-t-il maintenant que l'affrontement Est/Ouest a quasiment disparu et que la bipolarité n'est plus qu'un souvenir ? Telle est la question qui court en filigrane dans les différents articles composant ce numéro.
Fichier principal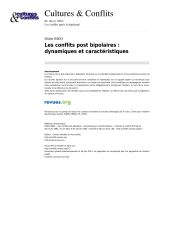 conflits-517-08-les-conflits-post-bipolaires-dynamiques-et-caracteristiques.pdf (118.31 Ko)
Télécharger le fichier
Origin : Explicit agreement for this submission