L'après-Mengistu dans la Corne de l'Afrique : une stabilisation impossible ?
The collapse of the Soviet system and the end of bipolarity have not contributed to peace in the Horn of Africa. Regional developments - whether in Ethiopia, Sudan (the only country in the region that really benefited from the fall of Mengistu), Somalia or even Djibouti - continue being influenced, not so much by external factors and the role played by the Soviets, than by a phenomenon of internal and international resonances.
La fin de la bipolarité, à savoir l'effondrement du système soviétique n'a pas joué dans la corne de l'Afrique comme un facteur d'atténuation voire même de disparition de la conflictualité. Les situations régionales, et plus particulièrement celles de Ethiopie, du Soudan seul véritable bénéficiaire au niveau local de la chute du régime de Mengistu, de la Somalie, et même de Djibouti, doivent selon Roland Marchal s'analyser plus comme les conséquences d'un phénomène de résonances entre des logiques internes et internationales que comme le résultat d'une induction par l'extérieur, quel que soit le rôle joué par la faiblesse ou la modération soviétique.
Fichier principal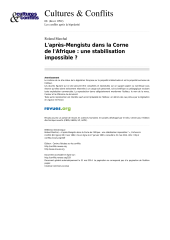 conflits-529-08-l-apres-mengistu-dans-la-corne-de-l-afrique-une-stabilisation-impossible.pdf (156.77 Ko)
Télécharger le fichier
Origin : Explicit agreement for this submission