L'invention du vote secret en Angleterre. Idéologie, intérêt et circulation des arguments
The invention of secret vote in England - By contrast with the early and steady extension of the franchise in Great-Britain, the adoption of the ballot arose many debates. Mostly, they reflected the reluctance front notables towards any restriction of their influence but also the specificity of the utilitarian ideology, on which the radical school of thought (the main agency of the democratisation process) was based : one of the corner stones of Bentham's philosophy being the principale of publicity, on one hand it hampered for some time the demand, by the radicals, of the ballot wich the middle class, their constituency, wanted strongly and on the other hand it provided the opponents to the ballot, conservative whigs as well as tories, with new arguments.
Par contraste avec le caractère somme toute précoce et régulier de l'extension de la franchise en Grande-Bretagne, l'introduction du vote secret (ballot) fit l'objet de longs débats. Ceux-ci reflétaient en grande partie la réticence des notables envers toute réduction de leur influence mais aussi la spécificité de l'idéologie utilitariste à l'origine du courant Radical, le principal aiguillon de la démocratisation anglaise : l'école de Bentham valorisait en effet au plus haut point le principe de publicité, ce qui d'une part, retarda un peu la mobilisation des radicaux sur le thème du vote secret que revendiquaient les classes moyennes dont ils étaient l'émanation et d'autre part fournit des arguments aux opposants du ballot, whigs conservateurs et tories.
Fichier principal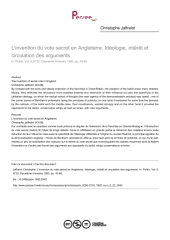 article-polix-0295-2319-1993-num-6-22-2043.pdf (2.5 Mo)
Télécharger le fichier
Origin : Explicit agreement for this submission