Les jeux du politique et de la transnationalité
Urban riots are often seen as the resultants of frustration caused by the deepening of economic crises or urban problems. Quite on the contrary, we would like to show the importance of political relations in the emergence of such violence. However, the " political explanation " is too often reduced to a " one country " analysis, thus failing to explain the globalisation and the simultaneity of riots, specially conspicuous during the 1989 events. Raising the question of the transnational transmission of the repertory of actions (contestation and coercion), we suggest that the delegitimisation, for a brief moment, of massive coercion by government partly explains how it was possible for a generalisation of protests to occur not only in central and eastern Europe but also in India, the Arab countries and French-speaking Africa..
Les grands mouvements de contestation qui ont touché quasi-simultanément l'Europe centrale et orientale puis l'URSS, l'Afrique subsaharienne et l'Afrique australe, sont venus s'ajouter à ceux que connaissaient déjà l'Amérique latine, le sous-continent indien et le Maghreb-Machreq. Les années 1989, 1990 et 1991 auront donc été celles de la multiplication à l'échelle mondiale des contestations populaires ouvertes contre des pouvoirs en mal de légitimité.
Fichier principal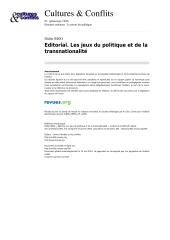 conflits-760-05-editorial-les-jeux-du-politique-et-de-la-transnationalite.pdf (136.86 Ko)
Télécharger le fichier
Origin : Explicit agreement for this submission