L'Allemagne après les Pershing : consensus, divergences et dissensions
Consensus, differences and dissensions in post-Pershing Germany, by Anne-Marie Le Gloannec - The wave of pacifism seems to have subsided momentarily in the Federal Republic of Germany and attention has once more returned to everyday problems such as the rate of growth, the unemployment curve and trade union disputes. Though most observer s deplore a degree of technological backwardness, they do not agree on how to remedy it, nor on policies to reverse the unemployment trend. Will the missile issue be replaced by the 35-hour week as the major bone of contention between government and opposition ? Consensus also seems to be eroding on defence although the government and the SPD are at tintes united on this question. However, the one essential point on which consensus remains is Ostpolitik.
Après l'apaisement, momentané peut-être, de la vague pacifiste, la République fédérale semble en revenir à un quotidien fait de taux de croissance, de courbe de chômage et de luttes syndicales. Si la plupart des observateurs s'accordent à dénoncer un certain retard technologique, en revanche ils ne s'accordent pas sur les remèdes à prendre ni sur la politique à suivre pour contrer le chômage. L'antagonisme gouvernement-opposition se déplacerait-il des fusées aux 35 heures ? Le consensus paraît également s'effriter en matière de défense bien que, de facto, le gouvernement rejoigne parfois le SPD. Pourtant il demeure, sur un point, essentiel : l'Ostpolitik.
Fichier principal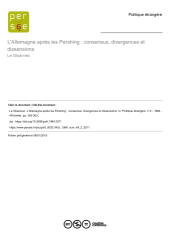 polit_0032-342x_1984_num_49_2_3371.pdf (858.36 Ko)
Télécharger le fichier
Origin : Publisher files allowed on an open archive
Licence : CC BY NC ND - Attribution - NonCommercial - NoDerivatives