La reconquête du marché intérieur et la relance économique : esquisse d'une stratégie
The present crisis is aggravated by two convergent trends : the growing indebted-ness of economic agents and increasingly heavy external constraints. This explains the strategy proposed in the following article : 1. to stimulate economic growth by braking the tendency to import and 2. to change the assets of thé monetary mass by gradually replacing the creation of money, now done by credit and there-fore by indebtedness of économie agents, by State money creation. The latter has the double advantage of financing autonomous economic growth and freeing enterprises from their debt burden.
La crise actuelle s'inscrit à la croisée de deux évolutions pernicieuses : un endettement de plus en plus fort des agents économiques et une contrainte extérieure de plus en plus pesante. D'où la stratégie préconisée dans cet article : 1) orienter la relance de l'économie vers une réduction de notre propension à importer, en premier lieu par un développement accéléré de nouvelles sources d'énergie ; 2) modifier les contreparties de la masse monétaire en remplaçant progressivement la création de monnaie par le crédit (et donc par endettement des agents économiques) par une création monétaire par l'Etat. Celle-ci permettra simultanément de financer la relance autocentrée suggérée et de désendetter les entreprises.
Fichier principal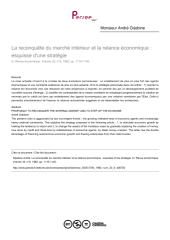 article-reco-0035-2764-1982-num-33-6-408700.pdf (1.86 Mo)
Télécharger le fichier
Origin : Explicit agreement for this submission