La montée en puissance de la République fédérale d'Allemagne
THE MOUNTING POWER OF THE FEDERAL REPUBLIC OF GERMANY - The expression " the German model " is very much in vogue, and it is true that the West-German economy is proving extraordinarily buoyant, although it has undoubted weaknesses. Does Germany's structural ascendancy over the other West European economies imply, however, that the Federal Republic is becoming increasingly powerful in the political sphere ? The political constraints restricting the Federal Republic's room for manœuvre are in fact numerous ; more important, the proximity of its powerful Soviet neighbour and the uncertainties weighing on the German-American alliance must surely encourage the Federal Republic to seek some form of Gallo-Germanism, or even Finlandization.
L'expression de " modèle allemand " est sur toutes les lèvres et, à vrai dire, l'économie ouest-allemande fait preuve d'un extraordinaire dynamisme, en dépit de vulnérabilités incontestables. L'emprise structurelle que la RFA exerce sur d'autres économies ouest-européennes autorise-t-elle toutefois à parler d'une " montée en puissance " de la RFA sur le plan politique ? Les contraintes politiques qui limitent la marge de manœuvre de Bonn sont en effet nombreuses ; bien plus, la proximité de la puissante voisine soviétique, les incertitudes qui obèrent l'alliance germano-américaine n'incitent-elles pas la RFA à rechercher une forme de gaullo-germanisme, voire de finlandisation ?
Fichier principal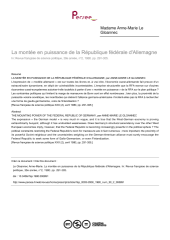 article-rfsp-0035-2950-1980-num-30-2-393891.pdf (1.21 Mo)
Télécharger le fichier
Origin : Explicit agreement for this submission