Appréhender les inégalités dans et par l'enseignement supérieur : spécificités des mesures, spécificité des processus ?
To assess social inequalities in higher education often appears as a straightforward issue: as a routine and as at the previous levels of education, one compares the diverse social groups' rates of access (or the rates of success) and any difference will be considered as an inequality... That will induce, sometimes, implementing some programs of positive discrimination. However, especially because higher education is the "final" stage of schooling careers, any analysis focusing on that level requires some specific reflection about how to assess social inequalities, with some political implications. This note raises some interrogations, both methodological and more theoretical (or political) ones, to progress in that direction.
Appréhender les inégalités au niveau de l'enseignement supérieur semble souvent immédiat : de manière routinisée et comme aux niveaux précédents, on va confronter les taux d'accès à ce niveau (ou de diplomation) des jeunes issus de tel ou tel groupe social, et tout écart sera considéré comme une inégalité... Et on imaginera parfois, sur cette base, des dispositifs de discrimination positive. Pourtant, notamment parce que ce niveau constitue un stade " final " des scolarités, toute analyse portant sur l'enseignement supérieur entraîne une exigence spécifique de réflexion dans l'appréhension des inégalités, réflexion non dépourvue d'incidences politiques. Cette note présente quelques questionnements tant méthodologiques que de fond, pour progresser dans cette direction.
Fichier principal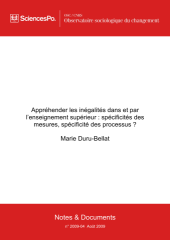 nd-2009-4.pdf (246.4 Ko)
Télécharger le fichier
Origin : Files produced by the author(s)