Discrimination in higher education and research in France. Observing, measuring, understanding
Les discriminations dans l'enseignement supérieur et la recherche en France. Observer, mesurer, comprendre
La discriminazione nell'istruzione superiore e nella ricerca in Francia. Osservare, misurare, capire
This article explores the institutional and political issues related to conducting research on discrimination in French higher education, and more specifically on racism. French sociological and socio-anthropological research on education has used the prism of social class, largely relegating analyses on universities' users (staff and students) in ethno-racial terms. This contribution highlights the role of field research in understanding discrimination in higher education. It shows how analyzing both structural and micro-social levels of discrimination can help overcome the sterile opposition between qualitative and quantitative methods. To support this argument, the article presents preliminary results from the ACADISCRI survey.
Cet article explore les enjeux institutionnels et politiques liés à la conduite de recherches sur les discriminations dans l'enseignement supérieur français, et plus particulièrement sur le racisme. La recherche sociologique et socio-anthropologique française sur l'éducation a utilisé le prisme des classes sociales, reléguant largement les analyses sur les usagers des universités (personnel et étudiants) en termes ethno-raciaux. Cette contribution met en évidence le rôle de la recherche de terrain pour comprendre les discriminations dans l'enseignement supérieur. Elle montre comment l'analyse des niveaux structurels et micro-sociaux de la discrimination peut aider à surmonter l'opposition stérile entre les méthodes qualitatives et quantitatives. Pour soutenir cet argument, l'article présente les résultats préliminaires de l'enquête ACADISCRI.
Questo articolo esplora le questioni istituzionali e politiche legate alla conduzione di ricerche sulla discriminazione nell'istruzione superiore francese, e più specificamente sul razzismo. La ricerca sociologica e socio-antropologica francese sull'istruzione ha utilizzato il prisma della classe sociale, relegando in gran parte le analisi sugli utenti delle università (personale e studenti) in termini etnorazziali. Questo contributo evidenzia il ruolo della ricerca sul campo nella comprensione della discriminazione nell'istruzione superiore. Mostra come l'analisi dei livelli strutturali e micro-sociali della discriminazione possa aiutare a superare la sterile opposizione tra metodi qualitativi e quantitativi. A sostegno di questa tesi, l'articolo presenta i risultati preliminari dell'indagine ACADISCRI.
Fichier principal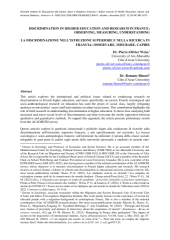 Weiss, P.-O. & Blassel, R. (2023). Discrimination in higher education and research in france. Observing, measuring, understanding.pdf (606.88 Ko)
Télécharger le fichier
Origin : Publisher files allowed on an open archive